December 2018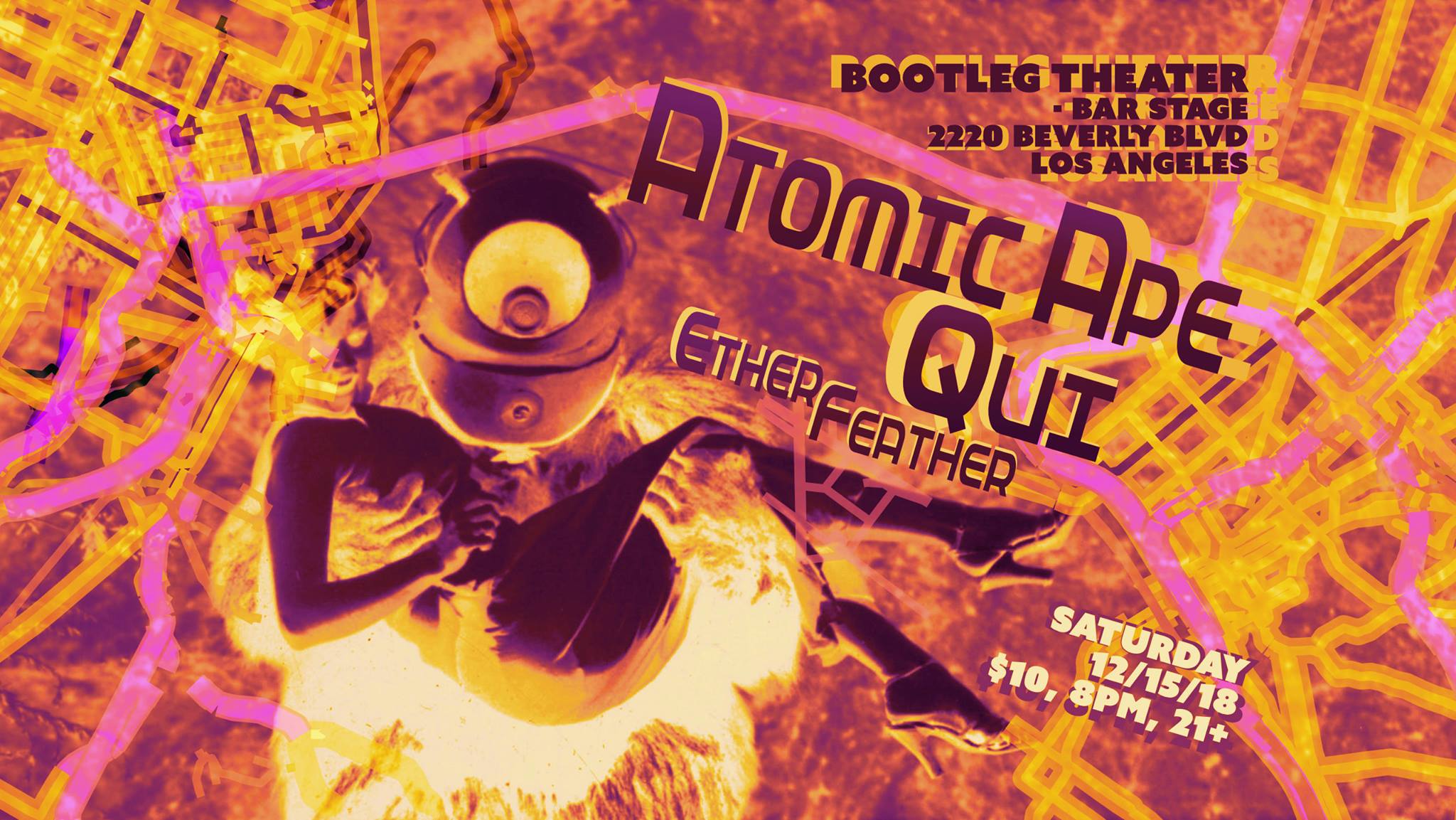 Sat. December 15 @ Bootleg Theater (Bar Stage)
with Qui and Ether Feather
8pm, 21+, $10
October 2018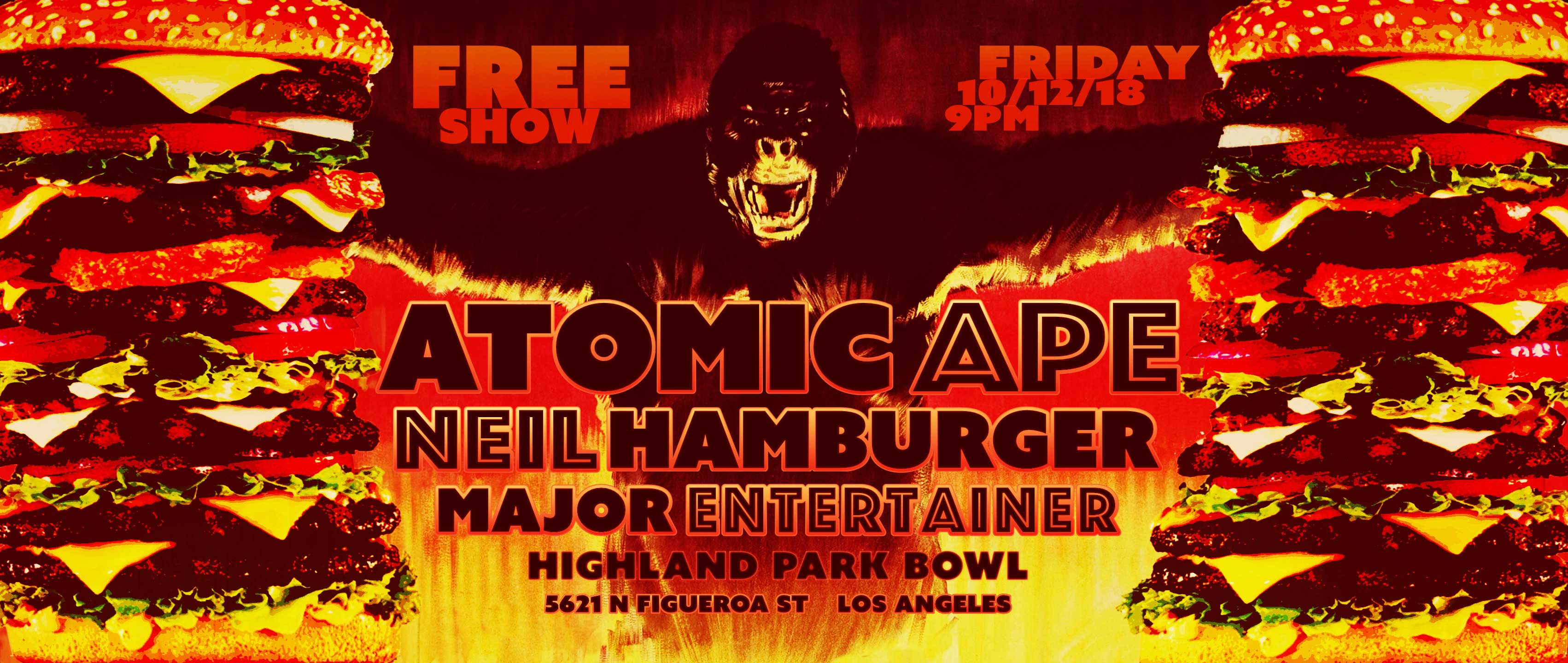 Friday October 12, 2018 - Los Angeles, CA @ Highland Park Bowl
with Neil Hamburger and Major Entertainer
Free show, 21+, 9pm
Saturday October 20, 2018 - San Diego, CA @ Winstons
with Consider the Source
9pm, $12, 21+

May 2018
Two new SoCal shows!
Thursday May 24 - Los Angeles, CA @ The Hi Hat
with Free Salamander Exhibit and Cheer Accident
$10, 21+, 8pm
Saturday June 9 - San Diego, CA @ Brick by Brick
with Behold...The Arctopus
$12, 21+, 8pm

March 2018
Tour dates for 2018!

Friday April 20 - Claremont, CA @ The Press
with Chola Orange
9pm, No Cover, 21+

Thursday April 26 - Chico, CA @ The Maltese
with Bogg and ZolaVibe
8pm, $7, 21+

Friday April 27 - Sacramento, CA @ Blue Lamp
with Destroyer of Light
8pm, $10, 21+

Saturday April 28 - San Francisco, CA @ Bottom of the Hill
with Consider The Source and Varona
8:30pm, $12, 21+

Sunday April 29 - Hermosa Beach, CA @ Saint Rocke
with Consider The Source
8pm, $12, 21+

Tuesday May 1 - San Diego, CA @ Whistle Stop
with INUS and Secret Fun Club
9pm, $6, 21+

June 2017
New show:
Sat July 1 - Los Angeles, CA @ The Blue Whale
with Burning Ghosts, $20 at the door, 21+, Doors 8pm, Show 9pm
Advance tickets here
Upcoming Northern California shows!
Fri June 16 - Sacramento, CA @ The Hideaway
with Modern Man and Meet Cute, $5, Doors 8pm, Show 9pm
Sat June 17 - Berkeley, CA @ The Starry Plough
with Jack O' The Clock and Hedersleben, $10, Doors 8pm, Show 9pm
Sun June 18 - Chico, CA @ The Maltese
with Bogg and The Rise and Fall, $7, Doors 6pm, Show 7pm
January 2017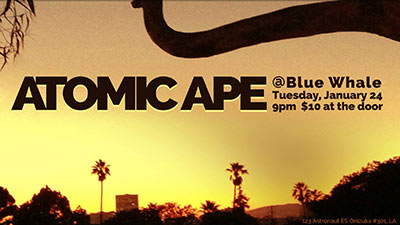 Upcoming LA show at Blue Whale!
Tuesday, January 24
April 2016
Recording the new album continues at Clear Lake Studios in North Hollywood!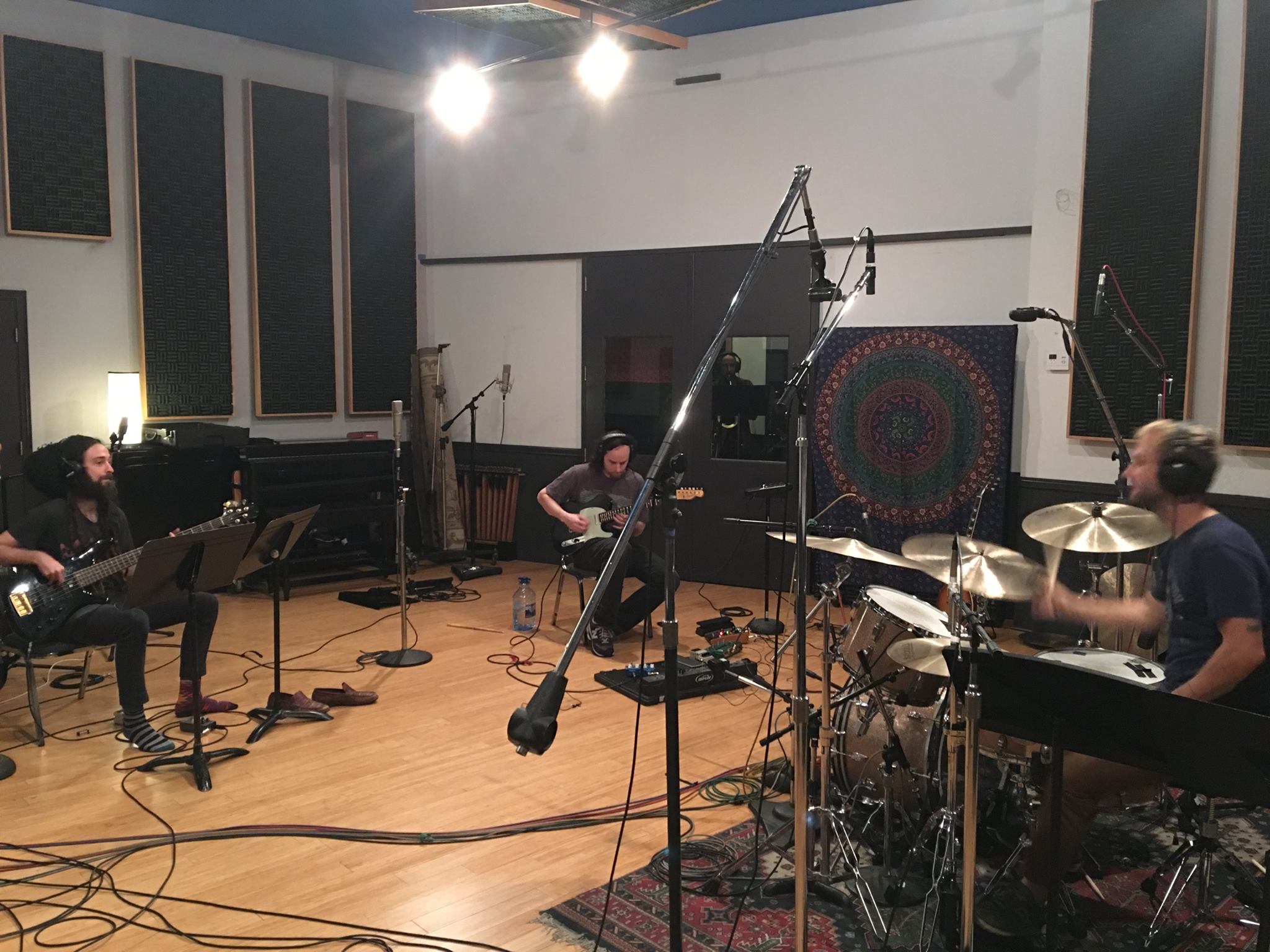 March 2015
Tracking session for the new album at Seahorse Sound in Downtown Los Angeles!!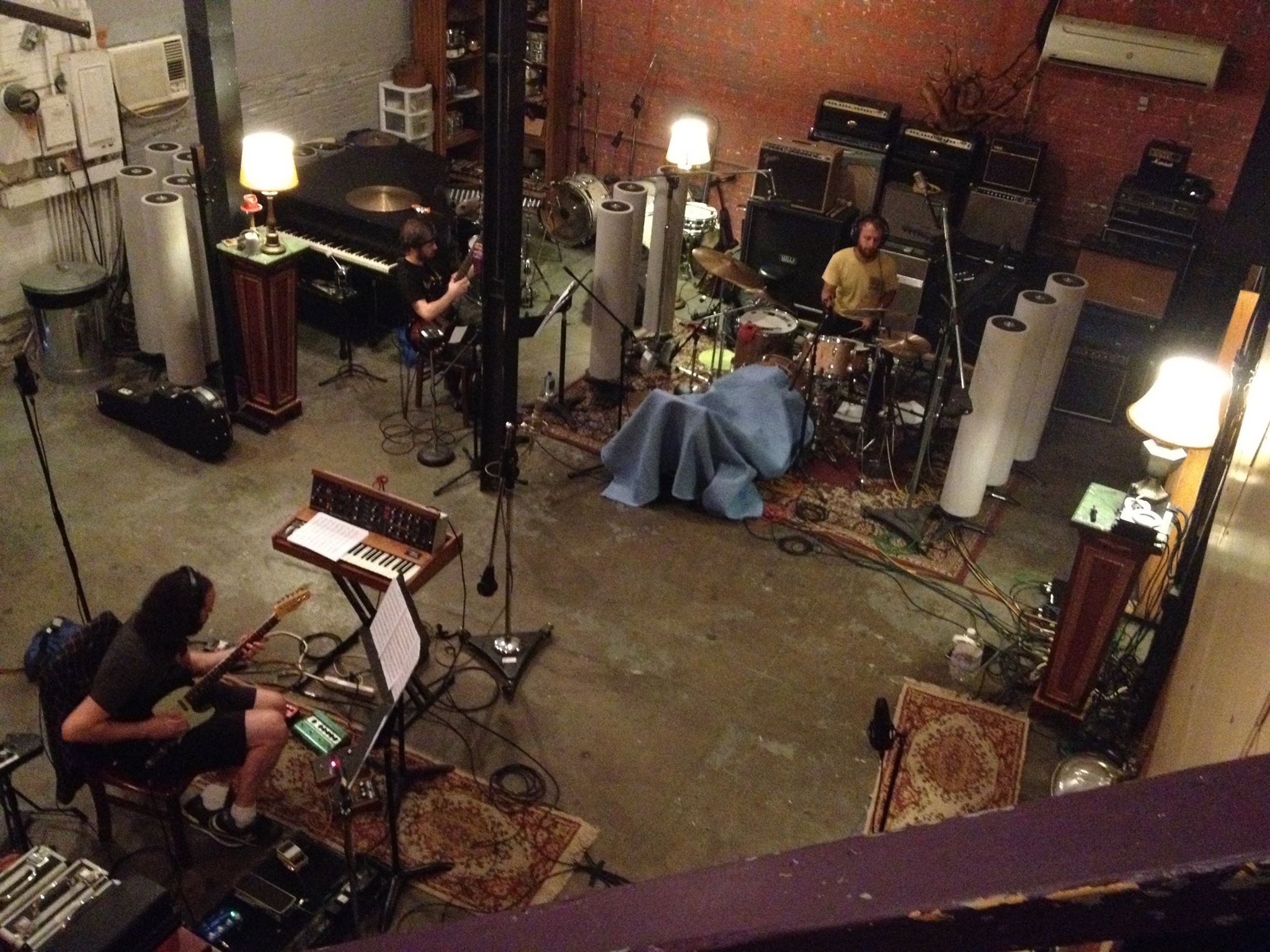 January 2015
Upon completion of two US tours with underground legends, Secret Chiefs 3, 2014 proved to be our busiest year yet. Directly following our last tour, we went straight into the studio to lay down the tracks for our second full length album. The album was recorded live to 2" tape in San Francisco's own Lucky Cat Studios. Stay tuned for more updates as we complete the album!
October 2014
North American Tour with Secret Chiefs 3:
| | | | |
| --- | --- | --- | --- |
| Oct 22 | New York, NY | Saint Vitus | TICKETS |
| Oct 23 | Philadelphia, PA | Boot & Saddle | TICKETS |
| Oct 24 | Richmond, VA | Gallery 5 | TICKETS |
| Oct 25 | Raleigh, NC | Kings | TICKETS |
| Oct 26 | Atlanta, GA | The Earl | TICKETS |
| Oct 28 | Austin, TX | Red 7 | TICKETS |
| Oct 29 | Denton, TX | Rubber Gloves | TICKETS |
| Oct 31 | Denver, CO | Larimer Lounge | TICKETS |
| Nov 1 | Albuquerque, NM | Launchpad | TICKETS |
| Nov 2 | Tucson, AZ | Club Congress | TICKETS |
| Nov 4 | Los Angeles, CA | Echoplex | TICKETS |
| Nov 6 | Santa Cruz, CA | Moe's Alley | TICKETS |
| Nov 7 | Hayfork, CA | Northern Delights | TICKETS |
| Nov 8 | San Francisco, CA | Great American Music Hall | TICKETS |
Come see us on our last LA show before the tour!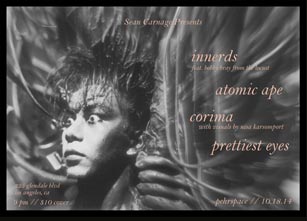 Oct 18
Los Angeles, CA
pehrspace
with Corima, Innerds,
and Prettiest Eyes
Check out our new vinyl single, "Rampage,"
featuring two brand new songs!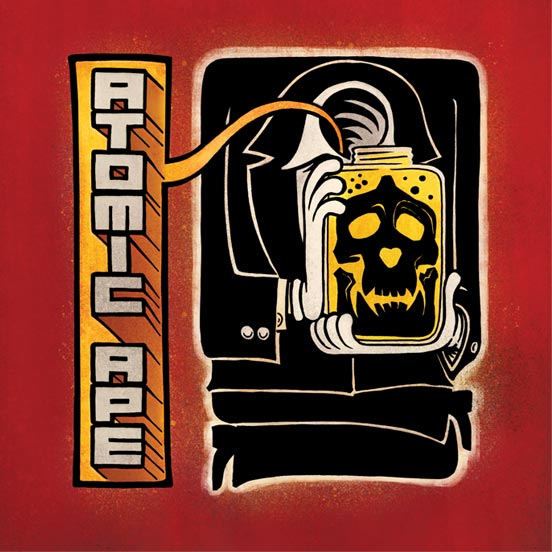 Order Rampage here.
We will also have it available for sale on tour!
July 2014
Check out a recent live performance of "Penumbra":
June 2014

Upcoming show!
Tuesday June 17- Los Angeles, CA @ Silverlake Lounge
with Dylan Ryan/Sand and Duk
More info…
May 2014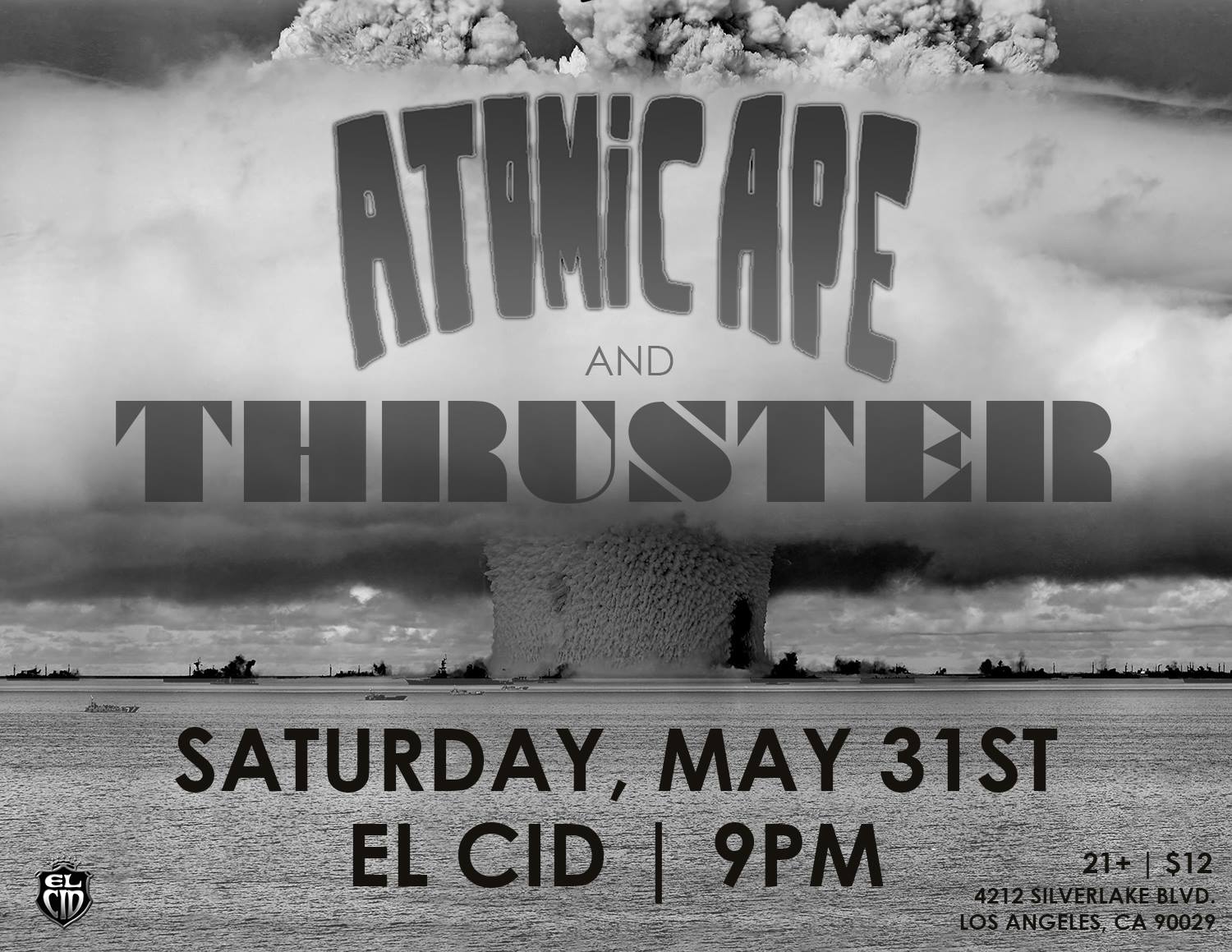 Friday May 31 - Los Angeles, CA @ El Cid with Thruster
More info…
March 2014
New merchandise is now available in our online store.

February 2014
Swarm west coast tour with Secret Chiefs 3 is complete. Big thanks to all the fans for coming out and supporting us on our debut tour! Next on the agenda is hitting the east coast, which we hope to do in fall of this year. So stay on the lookout!
January 2014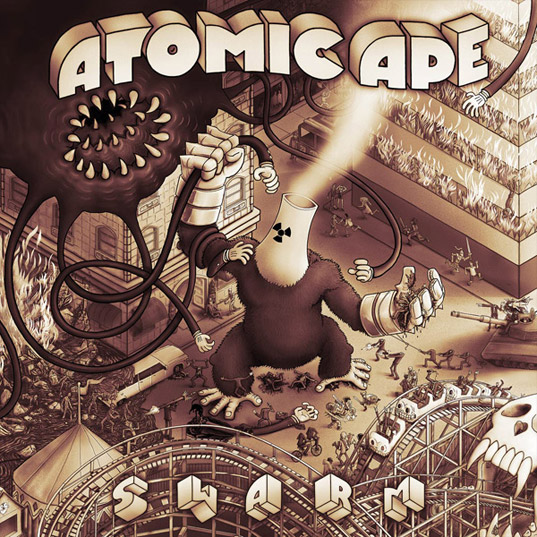 Description from Mimicry Records:
Here's some good news for fans of meticulously crafted instrumental music and records with major production efforts behind them. Mimicry Recordings artists formerly known as "Orange Tulip Conspiracy" have returned with a new lineup, a new sound, a new name (Atomic Ape) and most exciting of all, a new album called Swarm. The now-LA-based unit is still led by Jason Schimmel (Estradasphere), who has been honing this project for many years at studios in Seattle, San Francisco, and most notably at his formidable commercial studio in LA, The Bunker. He says it took over 4 years to record from beginning it to completing it… maybe he contracted some time-dilating virus during his time playing bass in Secret Chiefs 3 (rumors of him working on some of these tunes as far back as 2008 have been circulated). Also there's the cast of 25 musicians involved beyond the core live band, among them Mimicry-familiar names like Trey Spruance, Eyvind Kang, Tim Young, Devin Hoff, Jessika Kenney, Dave Abramson, Timba Harris, Steve Moore, and other heavy luminaries like Joe Doria, Danny Frankel, and Mike Stone. With the ethic of seeing something worth doing all the way through, and doing things the hard-but-right way for the musical aesthetics of the project, Swarm was mixed to 1/2" tape using only analog outboard equipment (this last step manned by the eminently capable Mimicry-familiar Justin Phelps). It's details like this - above all the care and consideration - that make the surf-drenched alternate universe of lost TV-land cop show soundtracks with 80 billion styles of music found on this record actually work - brilliantly. Mimicry is always proud to offer records like this one, those self-produced obsessions that go beyond the man hours, the massive track counts, the densely layered sections, meticulous packaging and art, and the dizzying range of musical styles and performances from all those heavy players... beyond all that, into the details!
December 2013
BIG NEWS!!! Our new record Swarm is all set to be released in late January 2014 on Mimicry Records, directly followed by a west coast tour opening 5 shows for the legendary band Secret Chiefs 3!!! We are also going to be headlining a few shows along the way. A complete schedule of show times, prices, and accompanying bands will be announced shortly.
Here's the tour dates:
Date
City
Venue
Details
Jan. 30, 2014
San Diego, CA
Til-Two Club
with Innerds and TrashAxis
Jan. 31, 2014
Los Angeles, CA
El Cid
with THRUSTER!
Feb. 1, 2014
Oakland, CA
The Legionnaire Saloon
with MoeTar and Cash Pony
Feb. 2, 2014
Eugene, OR
Tiny Tavern
with Explode-A-Tron and Egotones
Feb. 3, 2014
Bellingham, WA
The Shakedown
with Diminished Men and Bar Tabac
(Buy Tickets)

Feb. 4, 2014
Vancouver, BC
Biltmore Cabaret
with Secret Chiefs 3
Feb. 5, 2014
Seattle, WA
Neumos
with Secret Chiefs 3
Feb. 6, 2014
Portland, OR
Mississippi Studios
with Secret Chiefs 3
Feb. 7, 2014
Arcata, CA
Humboldt Brews
with Secret Chiefs 3
Feb. 8, 2014
Felton, CA
Don Quixote's
with Secret Chiefs 3
October 2013
What began as Orange Tulip Conspiracy has mutated into an all-new lineup with a whole new sound. You'll be able to witness the evolution soon, as the debut full length album, Swarm, is dropping in 2014. More details coming! Please like our new Facebook page to stay in the loop.